Project Management
Made Simpler, More Complete
and More Enjoyable





The Business Problem our products overcome is:
Of all the projects that fail

37% are due to inaccurate requirements gathering (Ref 1)
41% are due to changes in scope mid-project (Ref 2)
This is because
the right people weren't involved from the start
 the project requirements were poorly defined and managed
The Impact of the Problem
The business loses money

Projects run late, over budget or fail to deliver expected benefits
Projects get cancelled having chewed through $, time and energy

Resources tied up

Firefighting and unable to contribute elsewhere

Compromise the end result

To control budget and timescale the only option is to cut back on scope

Expected returns don't materialise
Our Solutions mitigate the impact of the problem because they
Focus on the Front End of a Project

What is the problem / missed opportunity?
What currently works?
What doesn't?
What could be achieved?
Is it aligned to organisational strategy?
Who needs to be involved / consulted / on-board?
Are constraints defined?
Are risks and assumptions identified, mitigated and managed to a comfortable level?
Identify and communicate what this project isn't!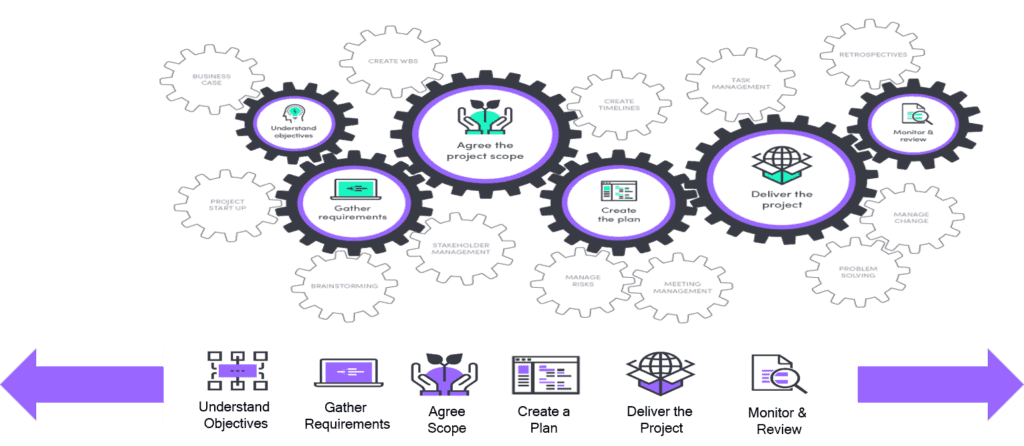 The Project Management Lifecycle
There are 6 key stages to effective Project Management:
Understanding Objectives
Gathering Requirements
Agreeing Scope
Creating a Delivery Plan
Delivering the Project
Monitoring & reviewing Progress
Each stage has other demands as shown by the less dominant cogs in the diagram at the top of the page:
Business Case Alignment, Project Start-Up
Agreement, Brainstorming, Work Breakdown Structures
Stakeholder, Risk & Meeting Management
Task Management, Problem Solving, Change Management
Retrospectives
The Value of Our Solutions
Our products, Barvas and MindGenius Desktop provide the ability to:
Clarify what needs to be delivered
Plan how and when
Deliver successful projects
And the capability to help
An organisation understand itself and how it is performing
Make the right strategic decisions
Simplify complex processes and situations
Maintain alignment with strategic objectives
Gain consensus on best way forward
Eliminate unwanted surprises during project delivery
The Marketplace Our Products Fit In
There are many competitive Project Management solutions in the marketplace
They range from simple low cost solutions to complex and expensive solutions managing huge projects
Barvas is optimised to support team of 10 or less to deliver multiple projects simultaneously in a team environment where online collaboration and sharing of plans is required
MindGenius Desktop is a standalone Desktop solution ideal for teams but where the key documents are maintained and controlled by a single project manager
Why?
Large projects are typically broken down into smaller projects
Smaller projects are typically delivered by teams of 8-10 people
The Project Management solutions for managing large projects are typically too complex and too expensive for the teams delivering the multiple small projects that collectively are the project
Key Product Differentiation of Barvas and MindGenius Desktop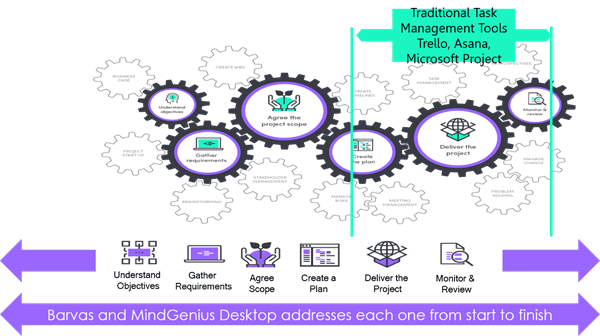 The principle reasons projects fail is due to inadequate management of objectives, requirements and scope. The leading tools in the PM space ignore this front end and typically pick up projects at planning the delivery stage and by then the damage is done!
Our products manage all aspects of a Project including the less dominant functions shown
Existing PM Tools ignore the front end and manage from Create the Plan forward
To try our products download a free trial today of MindGenius Desktop by clicking on link or for Barvas sign on for a trial at www.barvas.com and join our thousands of users who have benefitted from our approach to helping teams deliver successful projects