Captivate the Classroom with MindGenius
MindGenius offers a structured and efficient platform for organizing, planning, and executing academic projects, assignments, and administrative tasks. 
Improved lesson planning
Easy sharing and collaboration
Enhanced comprehension and retention
Progress tracking and reporting
Trusted by Schools and Universities
Across 100+ Countries
Visualizing Relationships and Connections
Visualize Your Information
MindGenius allow educators to visualize the relationships and connections between different ideas, concepts, or subjects. This helps educators develop a deeper understanding of their material and promotes more effective teaching strategies.  
It's easier to think critically and creatively.
Work together to generate ideas and connect concepts.
Think outside the box and come up with innovative ideas.
It's a quicker way to understand and retain information.
You can focus on the concepts and ideas that matter.
MindGenius provides a structured format for organizing lesson plans, ideas, and concepts, making it easier for educators to create engaging and coherent lessons. This helps educators manage their course materials and ensure that students receive a comprehensive learning experience. 
Easy Sharing & Collaboration
Create. Collaborate. Succeed.
MindGenius offers sharing and collaboration features, enabling educators to work together on lesson plans, curriculum development, or research projects. This fosters teamwork and collaboration among educators, enhancing their professional growth.
Use our app as a shared resource for group projects.
The @Chat feature lets you talk with others inside a map.
 Mindmapping aids brainstorming and creative idea generation.
Integrate MindGenius Online with Microsoft Teams for more complete collaboration.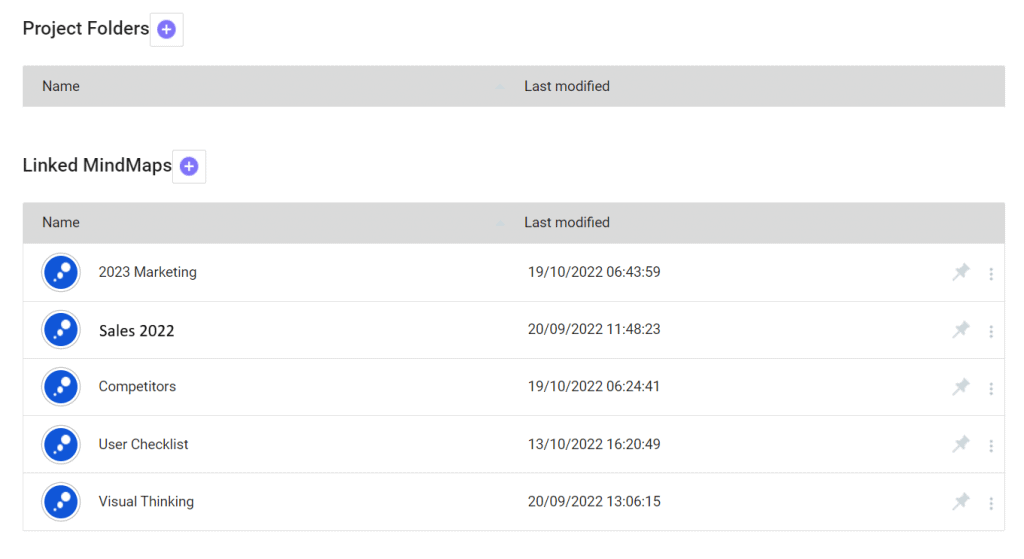 Document and Resource Management
Complete Control of Your Resources
MindGenius includes file storage and organization features, making it easy for students to manage project-related documents and resources. This helps students keep track of important information, access it when needed, and collaborate on shared documents.  
Manage and access external resources easily.
Keep track of all your important information in one place.
Simplified Brainstorming and Problem-Solving
MindGenius can be used to brainstorm ideas, solve problems, or explore concepts in a visual and organized way. This encourages educators to think creatively and critically about their teaching methods and materials, leading to improved educational outcomes.

Understand complex relationships through visual learning.
identify new opportunities and connections.
Share ideas by working together in real time.
Save time. Access projects any time through a browser.
Enhanced Comprehension and Retention
Learn More. Learn Better.
MindGenius helps break down complex information into simpler, more digestible chunks. By presenting information in a visual and hierarchical structure, MindGenius can help educators better understand and retain the information they are teaching, leading to more effective instruction.

Presents information in a hierarchical structure.
Help students better understand complex concepts.
Share ideas by working together in real time.
Save time. Access projects any time through a browser.
Organization and Planning
Bring Order to Chaos Through Organization
Educators can use MindGenius to plan and prioritize their assignments, projects, and other academic responsibilities. This helps educators manage their time more effectively and ensures they stay on track with their goals. 
Use Branch Focus to increase/reduce scope.
Map out your thoughts then assign them priorities.
Use the Reports tool for data-driven insights and analytics.
Use the Dashboard for multi-project oversight.
Organized task management
Task Management Done Right
MindGenius allows educators to create, organize, and prioritize tasks related to teaching, course development, and administrative duties. This helps educators stay focused, manage their workload effectively, and maintain a clear view of their responsibilities.  
Progress Tracking and Reporting
Track Your Progress
on the Move
MindGenius Online includes progress tracking and reporting features, providing educators with a clear view of project progress. This helps educators identify potential issues, adjust plans as needed, and make data-driven decisions.
Collaborate on projects with your entire class.
Set due dates so your students don't miss deadlines.
Notifications & Reminders
Never Forget a Thing:
Set Reminders with Ease
MindGenius includes notification and reminder features, ensuring that educators stay informed about task deadlines, updates, or changes. This helps educators stay on top of their responsibilities and maintain a proactive approach to task management. 
Customization & Flexibility
Personalize Your Projects
Mind map applications often provide customization options, allowing educators to personalize their MindGenius to suit their teaching styles and preferences. This can enhance engagement and make teaching more enjoyable. 
Millions of custom backgrounds via Unsplash.
Choose from Unsplash or Upload your own images.
Available on both Taskboard and MindMap.
Improve your productivity, communication and creativity in one place.
We help organizations to better plan, execute, and track projects, leading to improved results and increased success rates.