Create. Achieve. Inspire.
MindGenius enhances the creative process for creative professionals by providing a versatile and visually engaging tool for idea generation, organization, problem-solving, collaboration, and more. 
Visualizing and organizing information
Brainstorming and ideation
Planning and task management
Communication and collaboration
Problem solving and decision making
Brainstorming and Idea Generation
MindGenius aids in the brainstorming process, helping creative professionals generate new ideas, plan creative projects, and find solutions.  The visual nature of MindGenius mindmaps supports the free flow of ideas and associations, stimulating creativity. 
Arranging ideas visually in a hierarchical structure enables your clients to see the bigger picture and relationships between ideas.
Easy analysis and understanding of intricate concepts.  
The Map Navigator tool breaks down complex subjects into smaller components to simplify & clarify information. 
Inspiration and creativity
Inspire. Create. Innovate.
The process of creating a mindmap in MindGenius Online inspires new ideas and stimulates creativity, helping creative professionals overcome creative blocks and find fresh perspectives.
Use the Map Navigator tool to increase or decrease the scope of information displayed.
Map out your thoughts, then prioritize them easily.
Use Reports for data driven insights and analytics.
Use the Dashboard to manage multiple projects at once.
Organization and Planning
Bring order to chaos through organization.
Creative professionals often deal with complex ideas and projects. MindGenius organizes these thoughts and concepts, making it easier to see connections, patterns, and relationships between ideas. 
Learning and Memory Retention
Release your mind's full potential.
The visual nature of MindGenius helps improve retention, making it easier for creative professionals to recall important ideas and information.
Create a visual representation of their thoughts & ideas.
Organize your thoughts & ideas into logical categories.
Use color & imagary to reflect different concepts and ideas.
Easily review and revise your work at any time.
Planning and Organization
Plan and organize your way to success.
MindGenius Online provides everything you need for planning and managing creative projects. Set goals and deadlines, assign resources, and easily update your project plan at any time. 
Use a mindmap to brainstorm and then organize project tasks.
Use a variety of other views to track progress and make changes to the plan.
The Dashboard provides a multi-project overview for all your projects.
Focus on what matters most.
MindGenius allows creative professionals to create and organize tasks, milestones, and deadlines. This enables them to better manage their workload, prioritize tasks, and ensure timely completion of projects. 
Manage work in progress easily with the TaskBoard.
Easily move, delete, or add tasks.
Use Categories to put tasks, ideas, or information into useful groups for insights & greater clarity.
Insightful Reporting and Analytics
Data-driven insights that drive results.
MindGenius provides reporting and analytics features, allowing creative professionals to monitor project progress, assess team performance, and identify areas for improvement.
Helps present data in a clear, visual format.
Use brainstorming to identify new opportunities.
Plan & track your work to stay organized.
Share ideas & insights by collaborating with your team.
MindGenius helps creative professionals break down complex problems into smaller, more manageable components. This can make it easier to identify potential solutions and approaches. 
Identify and prioritize risks by likelihood of occurence.
Facilitate idea generation to explore all potential options.
Map out decision criteria then evaluate your options.
Makes it easy for decision makers to understand consequences.
Ensure all relevant stakeholders are involved in the decision-making process.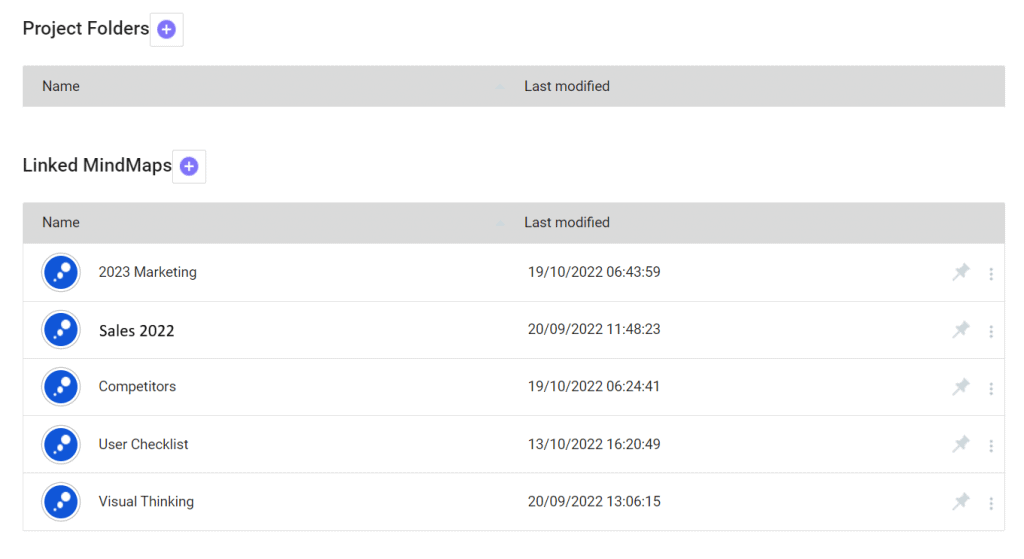 File and Document Management
All your files in one place.
Creative professionals often work with numerous files and documents. MindGenius helps keep these organized and easily accessible, streamlining the creative process and reducing the risk of lost or misplaced files.
Manage resources across a large team through collaboration.
Save time and costs by having all your resources laid out in front of you.
Maximize your potential, optimize your resources.
MindGeniushelps creative professionals allocate resources – such as personnel, equipment, and budgets – more effectively. This can help optimize productivity and prevent project delays or cost overruns. 
Managing resources across a large team through collaboration.
Save time and costs by having all your resources laid out in front of you.
Free up time for what really matters.
MindGenius enables you to visually organize tasks and deadlines, allowing creative professionals to better prioritize their work and manage their time more effectively.
Focus on more complex or high-priority work.
Reduce the likelihood of errors or oversights
Set tasks daily, weekly or monthly.
Increase efficiency and speed up workflows.
Collaboration & Communication
Create. Collaborate. Succeed.
MindGenius offers collaborative features that allow multiple users to work on a mind map simultaneously. Work together efficiently, share ideas, provide feedback & track progress. Everyone can contribute and have their say, which enhances teamwork, communication & the sharing of ideas among creative professionals.
Visual workspace for all your thoughts and ideas.
Structure your team's ideas and turn them into actions.
@Chat feature lets you talk with your team inside the map.
Available to download on MS Teams for true collaboration.
Your Focal Point for Everything.
MindGenius provides a single focal point for everything relating to a project, ensuring that all team members have access to relevant information, updates, and feedback.
Use the MindGenius Hub to keep track of all projects.
The Dashboard reduces the likelihood of errors and oversights across all your projects. 
Increase efficiency and speed up workflows.
As creative professionals take on more projects or grow their teams, MindGenius scales to accommodate these changes, fostering workflows that remain organized and efficient.
Start with your ideas and grow into a full project plan.
Use the Taskboard to tick off your tasks as you go.
Use the Dashboard to keep an eye on all your projects and outstanding tasks.
Improve your productivity, communication and creativity in one place.
We help organizations to better plan, execute, and track projects, leading to improved results and increased success rates.