This page provides all of release notes for MindGenius Online.  Please feel free to click on the images to expand them.
Sign-in with Microsoft account in browser.
Sign-in in Teams with account.
Fix for exclamation point not showing in the mindmap
Fixed-size for project cover images
Allow copying public projects from hub.
Dashboard backgrounds
Able to select particular map to view in Microsoft Teams.
Able to select particular Taskboard view in Teams.
Help Centre added.
Support system for users providing assistance on a wide range of topics such as project management, mindmapping and frequently asked questions.
Can be found by clicking on the question mark icon located in the top right corner of the screen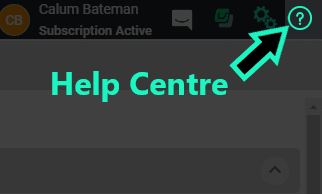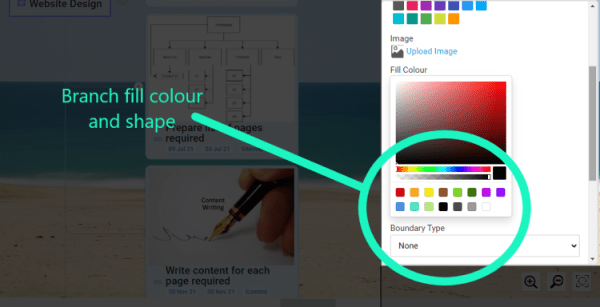 Branch Fill and Shape added.
Users can now edit the branch shape from a list of 5 standard choices (Cloud, Polygon, Ellipse, Curve and Box) and edit the colour the branch to suit their needs.
This can be found under Mindmap > Branch Properties > Styles 
Public Projects Tab launched.
Users can access a range of public projects designed by MindGenius on a variety of subjects.
Users will be able to access the project and also copy the existing project to their MindGenius Online account.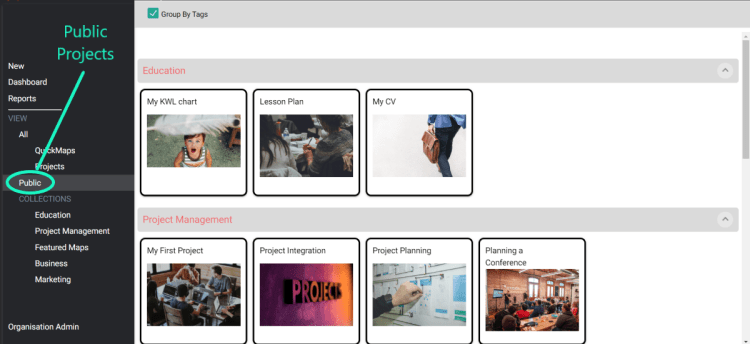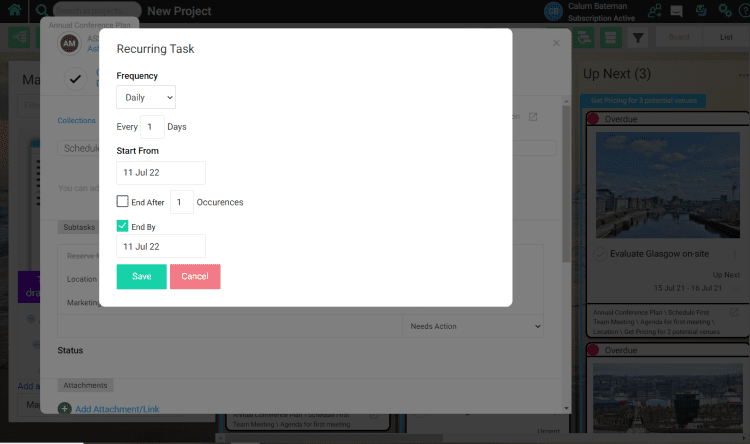 Recurring Tasks launched
Users can now set recurring tasks for their projects.
 Frequency of reccuring tasks can be set from daily, weekly, monthly or yearly (as well as every … days)
Public Projects launched.
Allows you to share your projects to anyone who has the URL link.
You can change existing projects to Public by going to Summary > Visibility
When creating a new public project, select "public" under Visibility.
"Users" renamed as "Organisation Admin" and clearly explains the differences between the 3 different types of resources you can use (licensed users, guest users and external resources).
Export tab added (similar to MindGenius desktop).
Within Reports you now have two new graphs showing " tasks unnassigned by project" and " tasks unassigned by person". 
We've moved the "print" option into the main menu, making it easier to find when planning a project.
Export to MS Project from Map and Timeline
Add constraints to tasks
Upload mgmx files directly through browser
Confirmation dialog shown before deleting a task in timeline
Priorities shown clearer on tasks
Update to look and feel of left panel
"Bulk upload of users" feature added for large organisations with many members.
UI re-designed to be more use-friendly, including moving navigation to new left-side panel.
Introduced "Dashboard" area of hub, outlining tasks requiring the most attention and which users are doing certain tasks.
Added charts to "Reports" section, with graphics outlining who tasks are assigned to, as well as how many tasks have been raised and closed over time.
We provide a real-time platform for you and your team to achieve results faster.
We help people and organizations around the world successfully complete projects without losing work or missing deadlines.