Customer Service Visit Mind Map
Make sure everyone is on the same page before a customer service visit. Use this mind map template to map out all the information required, then share with your team.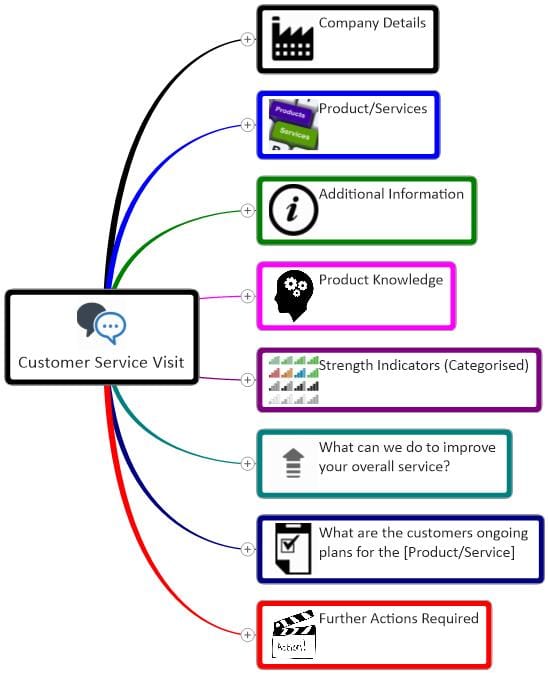 1.1. Confirmation of current information
        1.1.1. contact and position
    1.2. Departments using [Product/Services]
        1.2.1. contacts within them
        1.2.2. IT Contact
            1.2.2.1. departmental
            1.2.2.2. central
        1.2.3. have any other departments shown an interest
    1.3. Number of staff
        1.3.1. Number of Employees
        1.3.2. Management structure
        1.3.3. Organisational chart available
        1.3.4. Users of [Product/Services]
            1.3.4.1. Primary Users
            1.3.4.2. Secondary User
        1.4. Licence/Agreement structure
        1.5. Have all staff attended training
    2.1. What do you like/dislike about your current setup
        2.1.1. What benefits?
        2.1.2. What is good
        2.1.3. What is broken
        2.1.4. What could be improved
    2.2. Elements Planning on using in next 12 months
    2.3. Elements not in use what do they use
        2.3.1. What's good
        2.3.2. What's broken
        2.3.3. What could be improved
    2.4. [Products/Services] currently in use
3. Additional Information
    3.1. Account Growth
        3.1.1. Departments with a similar need or recommendations on how best to penetrate from a strategic perspective 
    3.2. Procurement
        3.2.1. What is the Procurement process within their business. 
    3.3. Potential Reference Site / Case study
        3.3.1. Willing to participate?
        3.3.2. If Yes, then why would they make a good case study?
    4.1. Use of product
    4.2. Use of training
    4.3. Use of Support
    4.4. Use of Community
    4.5. Use of Forums
5. Strength Indicators (Categorised)
    5.1. Implementation Strength
        5.1.1. Level of use of [Products/Services]
        5.1.2. Have objectives of use been achieved
        5.1.3. Overall level of knowledge and ability to maintain
    5.2. Value to them strength (Customer Perception)
    5.3. Relationship Strength (Customer Perception)
        5.3.1. Enquiries and experiences
        5.3.2. Quality and availability of information
        5.3.3. Frequency and method of communication
    5.4. Strategic Value Strength
    5.5. Further Opportunity Strength
6. What can we do to improve your overall service?
    6.1. Is there a service you would like to see us providing?
7. What are the customers ongoing plans for the [Product/Service]
    7.1. Immediate
    7.2. Short term
    7.3. Medium Term
    7.4. Long term
8. Further Actions Required
    8.1. Sales
    8.2. Technical
    8.3. Other
    8.4. Next Follow up from Services?
    8.5. Development
    8.6. Enhancements / Suggestions
    8.7. Complaints