Using Auto Zoom and the Zoom Slider
The zoom slider can be used to zoom into your map/an area of your map to help you focus in on a certain branch or range of branches.
This feature can be used in conjunction with the auto zoom feature, or the auto zoom feature can be disabled entirely to allow you to set the level of zoom manually with the slider and have your map retain this level of zoom until auto zoom is re-enabled.
If you zoom manually without disabling the auto zoom feature, your map will automatically resize again the next time you make a change to the map – for example creating a new child branch.
However if you disable auto zoom entirely and zoom in or out using the slider, the map will maintain this level of zoom once you start making changes to your map, handy if you have a particularly large map and only want to work on a small section of it.
To re-enable auto zoom, simply click on the "Auto Zoom" button again (you will see the button will be highlighted again to show auto zoom is enabled).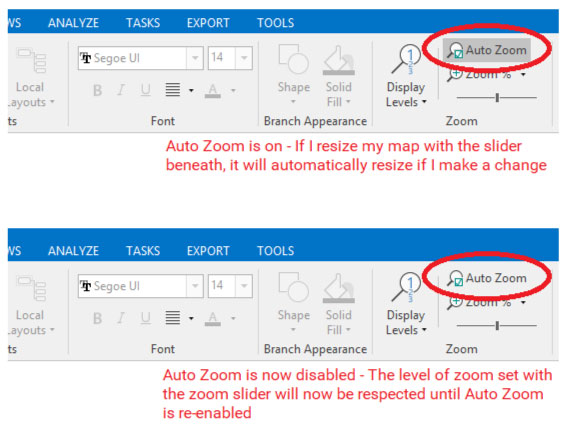 Display Levels
Selecting a level from the Display Levels menu will automatically increase or decrease the visible levels in your map to the specified level.
For example, if your map contains 9 levels of branches and you select "Level 2" from the Display Levels menu, your map will be collapsed automatically such that only the Core plus Level 1 and Level 2 branches are visible.
To display a specified level:
Open the Display Levels menu

Select a level
To view all levels again select "Root" from the "Display Levels" menu, or select the Core branch in the map explorer.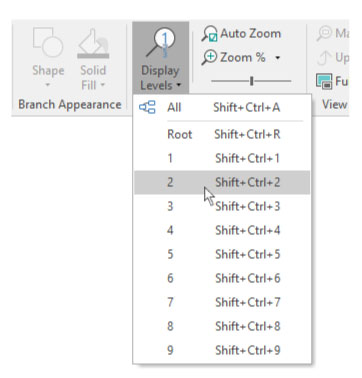 Zoom Menu
The zoom menu contains several pre-set zoom values, such as "Best Fit", "Fit Width" and "Fit height". With any of these options MindGenius will automatically choose the best zoom level based on your map's current size and shape. Using this menu you can also select from several pre-set zoom percentages.
Click the right edge of the zoom button to open the menu.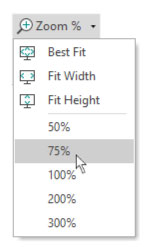 Clicking the left portion of the zoom button will zoom your map to best fit