Project management software can be inflexible. MindGenius 20 changes that.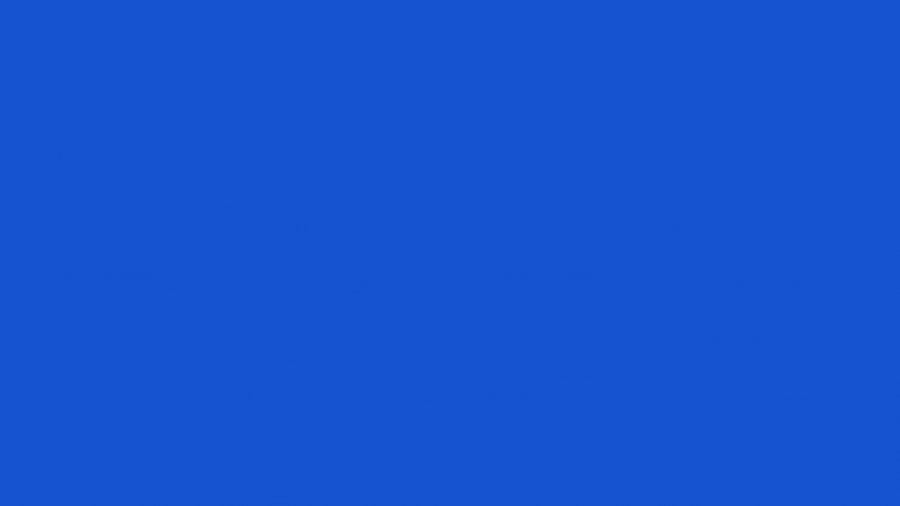 We have 6 ways of performing key project management activities. 
Choose what works best for your project and your personal work style.
6 tools = more options for you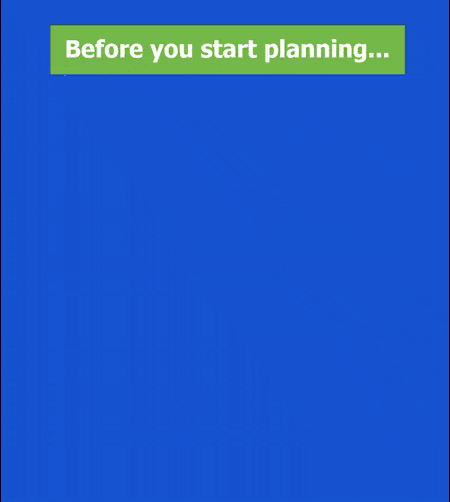 First lay the foundation for your project. A mind map is the perfect tool for this.
Note: Many project management applications fail to provide for this up-front planning.
With your preparation completed, lay out the tasks in the simplest, quickest way: another mind map.
Gantt:
Durations and dependencies
It takes one click to move from mind map to Gantt View (Tool No. 2) for adding task durations and dependencies.
With the  Project Snapshot feature, you can record scheduled task completion dates and highlight late tasks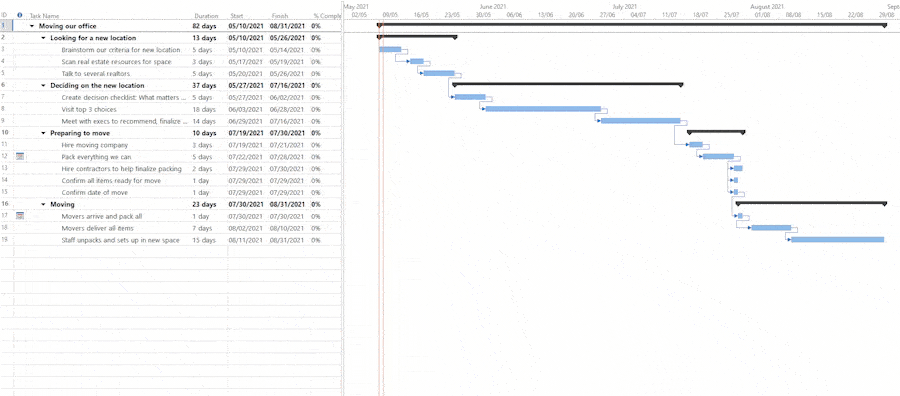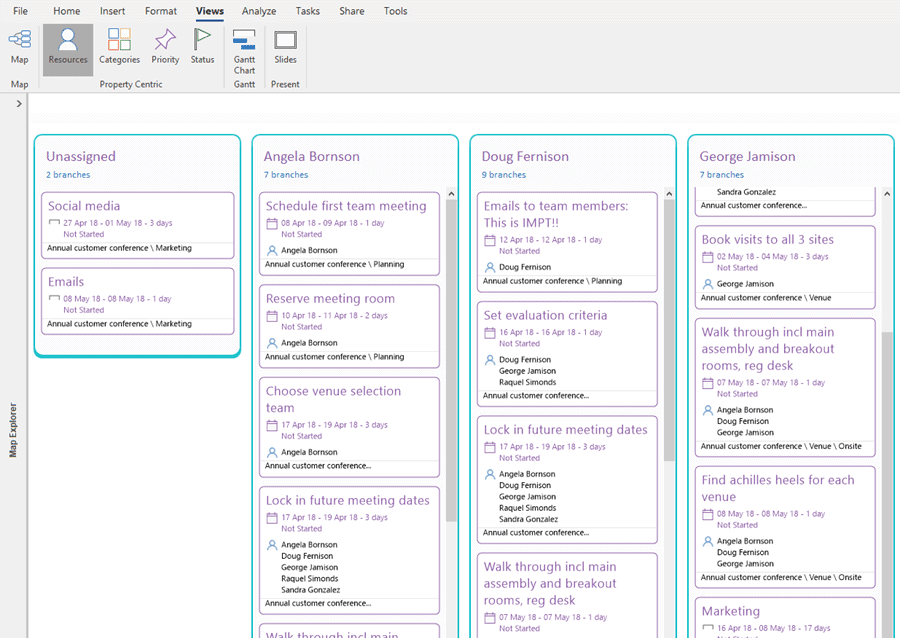 MindGenius 20 also provides four Dynamic Views – sets of easy-to-configure kanban-like columns. 
The Resources View (Tool No. 3) makes it simple to assign and track resources. 
Categories: use ours or make up your own.
The Categories View (Tool No. 4), lets you monitor critical information about tasks. Use common project management categories or categories you create.
For example, you can track tasks that are important to your CEO, or considered especially challenging.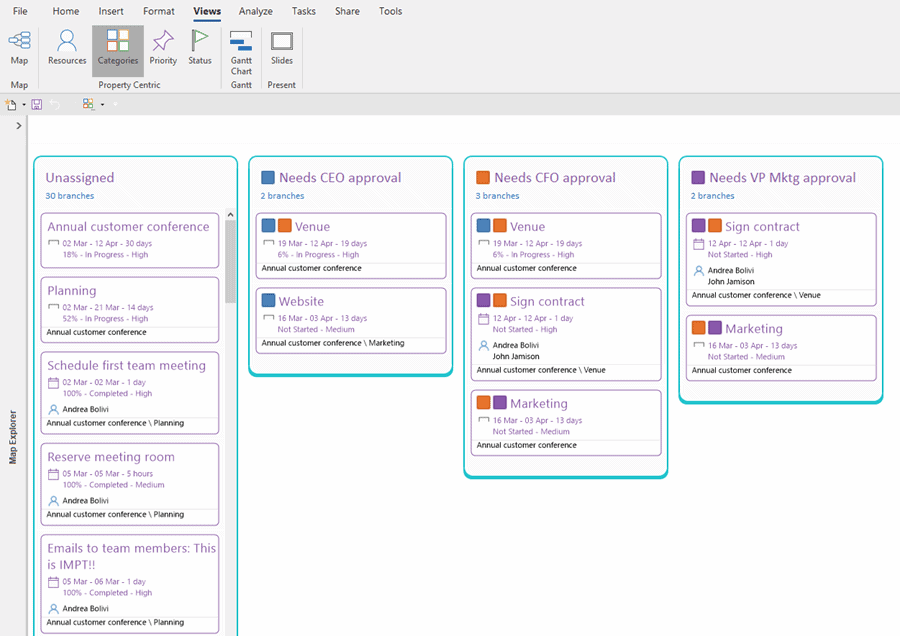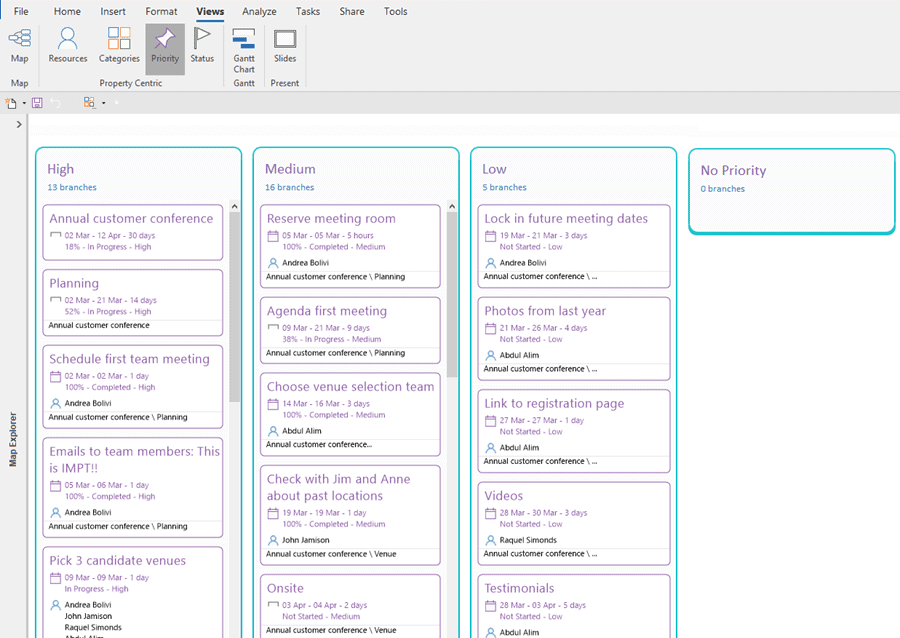 Priority View: what matters most to you?
The Priority View (Tool No. 5) lets you track tasks by their importance to the project or to you.  
Keep up to date on all things MindGenius.
Follow Us!
What is project management software?
Project management software is defined as software that helps users manage all aspects involved in project management including planning projects, outlining the project scope, allocating resources, managing tasks throughout the project, file sharing and collaboration between team members, time tracking and error reporting.
Why is project management software important?
All sizes of businesses juggle a variety of tasks, sometimes across a number of departments. Project management software enables employees to share files, share timelines on task progression and allows teams to delegate assignments to appropriate team members with the right skills for the task. The right project management software helps keep projects on task for goals be accomplished on time and within budget.
How project management software works?
Project management software is a solution-based program to simplify planning, organising, sharing, collaboration and as a growth-enabler for all sizes of businesses. The software provides a visual interface of all the micro tasks involved in larger projects and can be used by individuals or by teams to enhance communication and file collaboration.
What types of project management software is there?
The vast majority of business-focused project management software will provide an array of features and be customisable to accommodate for various types of planning activities. The types of project management software tend to differ in types of how they're accessed. Cloud-based applications are often accessible from any device or compatible browser. On-premise applications are installed to a company's local server and accessed on company computers rather than individual employee devices.
How to choose project management software?
Managing larger projects with multiple users often requires dedicated project management software that can be customised to a company's requirements enabling a variety of processes to be streamlined. The key features most organisations require relate to project planning, communication, and collaboration with the ability to build transparency into processes letting all stakeholders see who is responsible for each task in a process, which also builds in accountability. The right project management software will let managers see at any given time what tasks are done, what's still to be done and who is responsible for each task assigned.
Who uses project management software?
Project management software is used across a number of industries including the health sector, education, and by students to team leaders, project managers right up to CEOs. Project management software is best suited to teams and departmental projects in business. The difference between project management software and project management tools are that tools are better suited to single users focused on planning out the to-do steps required in accomplishing individual tasks, whereas project management software is better suited to multiple users due to the collaboration and communication enhancements.