Project Sprint Retrospective
Reviewing progress of a project throughout delivery is essential to make sure all is on track and there are no issues in the team. Effective communication ensures everyone can input.
A Sprint Retrospective meeting is a good way to facilitate those discussions, by taking into account what is working and what isn't. A Sad, Glad, Mad structure to the meeting creates an informal style.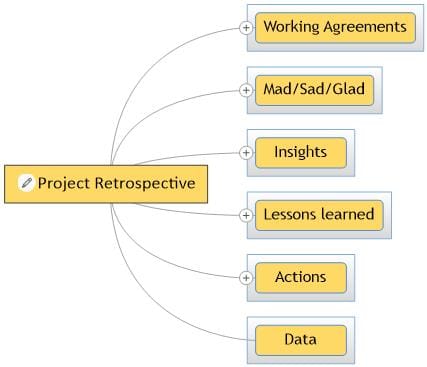 1.1. No Blame
    1.2. Everybody Speak
    1.3. Not a time to accuse or defend, or to explain oneself
    1.4. No interruptions
    2.1. Mad
        2.1.1. What made you angry?
        2.1.2. Why did it make you mad?
    2.2. Sad
        2.2.1. What made you upset?
        2.2.2. What disappointed you?
        2.2.3. Why did it upset you?
    2.3. Glad
        2.3.1. What made you happy?
        2.3.2. Why did it make you happy?
    3.1. What did we learn?
    3.2. What did we do well?
    3.3. What should we do differently next time?
    4.1. what should be avoided?
    4.2. what should be done differently next time?
    5.1. Action to be taken next