Project Stakeholder Communication
Managing stakeholder communication is essential for project success and is ongoing throughout a project.
Part of this process is to establish the needs of stakeholders in terms of communication to ensure they are given the right amount of information at the right time. Use this template along with the Project Stakeholder Management Checklist.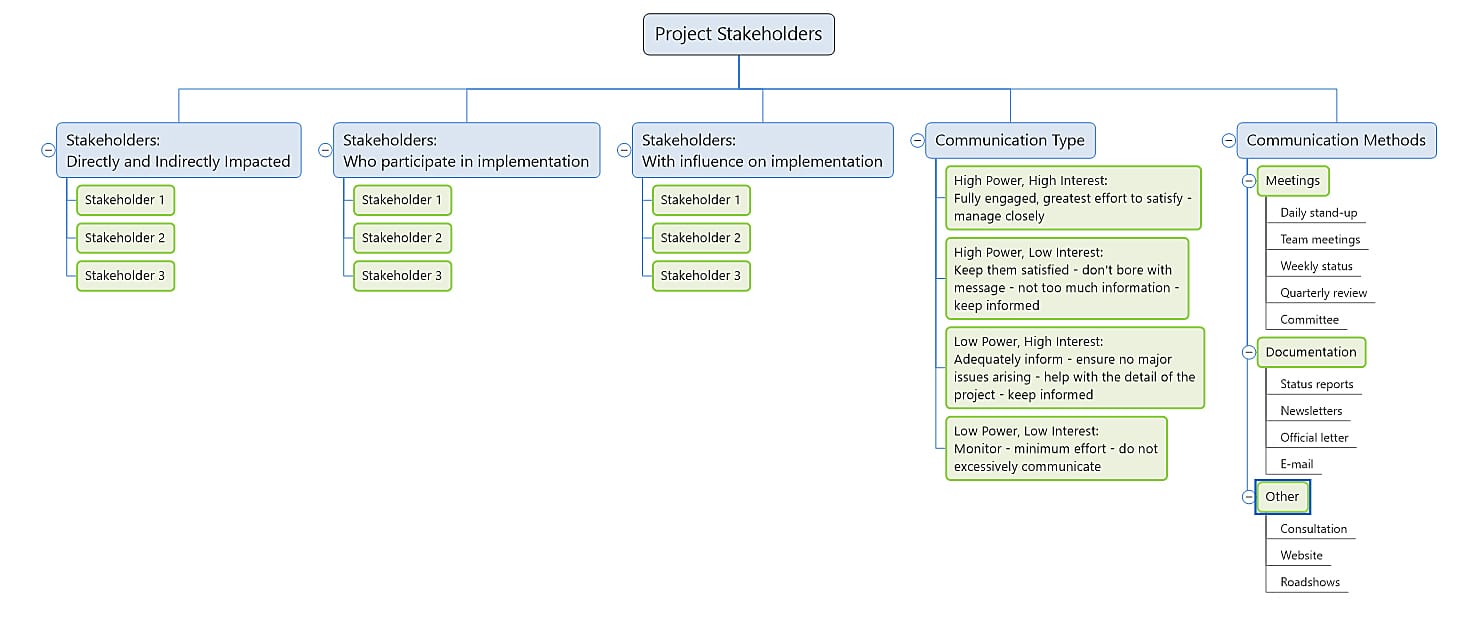 1. Stakeholders: Directly & indirectly impacted
    1.1 Stakeholder 1
    1.2 Stakeholder 2
    1.3 Stakeholder 3
2. Stakeholders: Who participate in implementation
    2.1 Stakeholder 1
    2.2 Stakeholder 2
    2.3 Stakeholder 3
3. Stakeholders: With influence on implementation
    3.1 Stakeholder 1
    3.2 Stakeholder 2
    3.3 Stakeholder 3
    4.1 High Power, High Interest – Fully Engaged- Greatest effort to satisfy- Manage closely
    4.2 High Power, Low Interest – Keep them satisfied – Don't bore with message (eg not too much info) –            Keep informed
    4.3 Low Power, High Interest – Adequately inform – Ensure no major issues arising – Help with the                   detail of the project – Keep informed
    4.4 Low Power, Low Interest – Monitor (minimum effort) – Do not excessively communicate
    5.1 Meetings
        5.1.1 Daily stand-up
        5.1.2 Team meetings
        5.1.3 Weekly status
        5.1.4 Quartely Review
        5.1.5 Committee
    5.2 Documentation
        5.2.1 Status reports
        5.2.2 Newsletters
        5.2.3 Official letter
        5.2.4 E-mail
    5.3 Other
        5.3.1 Consultation
        5.3.2 Web Site
        5.3.3 Roadshows