Simplify Your Onboarding Process with MindGenius Online
Every phase of the onboarding process with a new employee is important, from before they begin their job, through their first month, to the successful completion of their first year. With an eye towards the goals of helping create a welcoming atmosphere and providing the guidance necessary for new hires to acclimate to life at MindGenius, we've designed a series of useful checklists and an overall template that provide a step-by-step guide for managers to navigate this process. With the ability of MindGenius Online to copy repeatable processes we have also benefited from being able to replicate our best practice process in a seamless efficient manner in our own products.
Finding the best candidates for positions in your organisation is only one part of building an effective team. The process of onboarding new employees can be one of the most critical factors in ensuring recently hired talent will be productive, contented workers. Onboarding new hires at an organisation should be a strategic process that lasts at least one year because how employers handle the first few days and months of a new employee's experience is crucial to ensuring high retention.
However, in some organisations, onboarding is often confused with orientation. While orientation might be necessary—paperwork and other routine tasks must be completed—onboarding is a comprehensive process involving management and other employees that can last up to 12 months.
Before implementing a formal onboarding program, employers should answer some key questions to attain team and upper management buy-in, including:
When will onboarding start?

How long will it last?

What impression do you want new hires to walk away with at the end of the first day?

What do new employees need to know about the culture and work environment?

What role will HR play in the process? What about direct managers? Co-workers?

What kind of goals do you want to set for new employees?

How will you gather feedback on the program and measure its success?
Answering these questions will help devise a plan of action to help new employees quickly assimilate company policies and workflow, while getting fully acquainted with the organisation's culture.
At MindGenius we have identified key stages in a new employee's first year that combines the objectives of orientation and onboarding.
Stage 1 – Pre- arrival
Predominantly an orientation phase ensuring that the business, the employee's manager and the key staff are completely organised to welcome the new employee. A full checklist has been developed to ensure we consider everything from systems to desk set-up and an internal communication plan.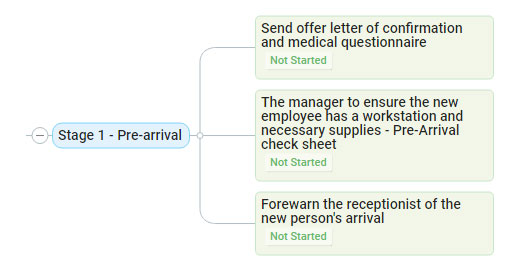 Stage 2 – Day One
A detailed welcome plan for the new employee to introduce them to the background and culture of the business and help define their potential role and how it relates within the business. A clear structure to outline goals and objectives for the employee is key and the roles needed by various members of the team has been defined.
Stage 3 – End of Probation Period
This is typically 3 months after employee start date and provides a formal review that technically removes the probation period clause from the offer letter conditions and initiates clear discussion on future goals and establishes the ongoing formal quarterly review discussion.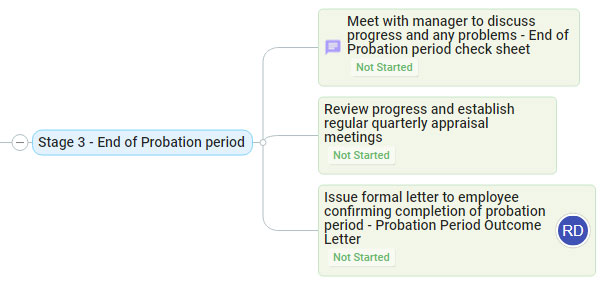 Stage 4 – Annual Review
A retrospective review of the year that builds upon the regular meetings to discuss the positives from the year, feedback on areas to be improved upon and build the goals and challenges for the year ahead.
As we have a defined template we simply copy the template for all new employees and the key tasks, timescales are all triggered relative to the project start date. For each of the key tasks we identify the main person responsible for actioning and the key date order in which they occur. Some tasks are always performed by the same person regardless of which department the new employee joins so we are able to identify the critical resource in the template. Equally some tasks are actioned by the manager and since this can change we can only allocate such tasks after the process has been formally launched.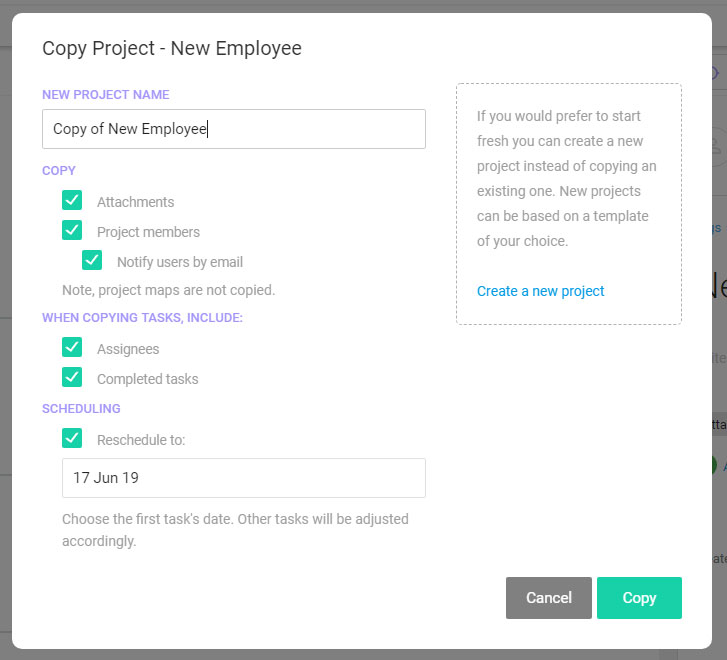 The timing between the stages is relatively fixed with stage 1 – 1 week before start date, Stage 2 performed on day one, Stage 3 – 3 months after stage 2, Stage 4- 12 months after stage 2. For some of the key stages we use the Barvas notes feature to provide guidance for the manager. As they consider the checklist they are free to use the subtask feature to create tasks that become required during the process. As the employee moves beyond stage 3 and into discussions regarding goals and objectives we then attach a document to the process that templates and checklists our ongoing quarterly review process which we will be delighted to share in another upcoming blog.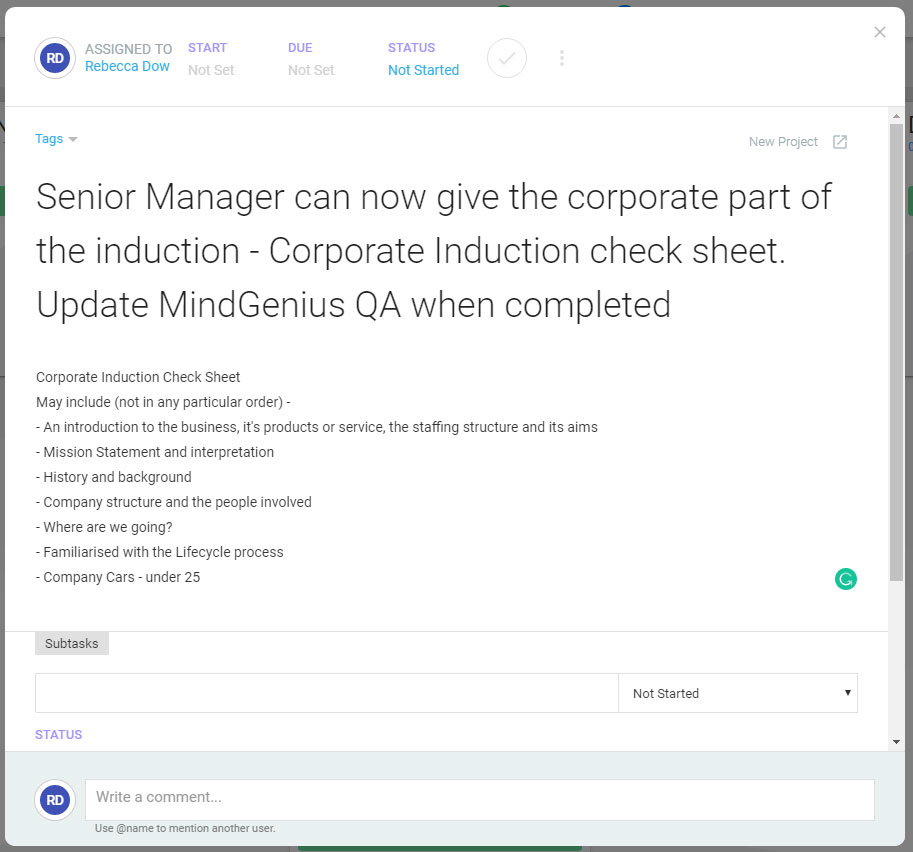 As you are aware we are hugely thrilled with our latest offering, Barvas and it has become the defacto tool to help us run our business and use it throughout our organisation to handle all our business processes. With the addition of Copy project and the imminent release of templates we are happy to share our experience of how we onboard new employees and hope you can use the ideas as you see fit. 
See yourself the difference MindGenius will make in your projects...
During your free trial we'll show you how MindGenius Online will make project management simpler, more complete, and more enjoyable….