MindGenius maps out successful strategic planning for 20:20 Consulting
Strategic adviser Jayne Graham uses MindGenius to develop strategic business plans, gain clarity into high volumes of complex information and advise her consultancy customers, for whom she enables change, effectively.
Jayne's business enables change through helping people and organisations to be clearer about where they're going and how they're going to get there. Jayne said:
"Often my customers have lots of ideas but no clear path forward, and I use MindGenius to help me to pull all of their ideas and thoughts together in one place, to categorise opportunities, to find clarity"
How 20:20 uses MindGenius
Jayne uses MindGenius to help with the development of strategies and to assimilate and analyse findings from research prior to reporting. For example, through pulling together information from various sources from customers, through MindGenius, Jayne is able to develop clear plans for their future development, including goal setting (vision statements), clarifying their future purpose (mission statements) and developing strategic plans.
Jayne uses MindGenius continually in her consultancy work. She said that she always has several mind maps on the go, and for example, has used MindGenius to help with reporting the results of a complex piece of research to support the development of regional policy. As part of her work on behalf of clients she enables change for business and has developed new concepts and models in complex areas of business-related policy; supported businesses to develop new markets; and helped people who had a desire to get into business themselves to get started and realise their dreams.
As well as mind maps, Jayne uses a range of Microsoft products, including Groove (shared workspace), Project, and the usual office suite; as well as Skype for virtual meetings and SurveyMonkey to collect customer feedback.
How Jayne uses MindGenius:
Jayne pulls together her ideas and information first, then steps back to look for a route forward which starts to emerge from the muddle. Jayne then re-orders the information to ultimately come up with a clear picture. She sometimes runs through mind-maps with customers, as it can help to them to get clarity, however, most of the time the customer sees the end product – a clear route forward.
"I think the economic climate is a difficult time to be in business, but it's also a really good opportunity for businesses to stand back and think about where they're going and how they're going to get there. Bringing in a new perspective and some real objectivity can really help. That's what 20:20 Consulting Ltd's about – we're about to go into our sixth year in business and our customers tell us that we're here to stay. I have recommended MindGenius to many of my customers and associates because I get good results".
Jayne Graham – Founder of 20:20 Consulting Limited.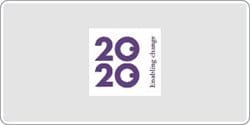 See yourself the difference MindGenius will make in your projects...
During your free trial we'll show you how MindGenius will make project management simpler, more complete, ane more enjoyable….