Social Media Communication Strategy Mind Map
This Social Media Planning Template, helps you plan out your intentions for social media as well as preparing an editorial calendar to follow. This can be used on it's own or along with the Marketing Campaign Planning Template.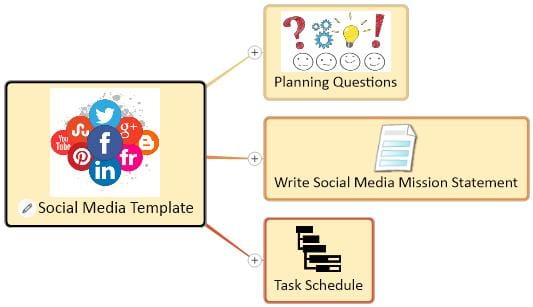 1.1. Purpose
        1.1.1. What do you want to achieve by using social media for marketing?
            1.1.1.1. increased awareness
            1.1.1.2. generate leads / enquiries
            1.1.1.3. grow follower numbers
            1.1.1.4. become established as a thought leader on a particular subject
        1.1.2. Which social media channels would help to achieve these aims?
    1.2. Who is the intended audience? 
        1.2.1. B2B
        1.2.2. B2C
        1.2.3. OTHER
            1.2.3.1. STUDENTS
            1.2.3.2. CHARITIES
        1.2.4. Combination of these
        1.2.5. Which social media channels are best suited to the intended audience? 
            1.2.5.1. Twitter
            1.2.5.2. Facebook 
            1.2.5.3. Instagram
            1.2.5.4. Snapchat
            1.2.5.5. LinkedIn
    1.3. Will paid advertising be part of the overall plan for social media? 
        1.3.1. Establish budget available
        1.3.2. What are the options for paid advertising on the channels chosen to use?
    1.4. How will I measure the success / impact of a social media marketing campaign?
        1.4.1. Consider things such as: Number of followers Engagements / Conversations / Interactions                         Numbers of leads / enquiries generated
2. Write Social Media Mission Statement
    2.1. We will use (SOCIAL MEDIA CHANNEL) for (PURPOSE) to help achieve (BUSINESS GOAL)
    2.2. Each piece of content posted should relate to this statement of intent
    3.1. Content Required
        3.1.1. Decide on the content required
        3.1.2. Assign resource and timescale 
    3.2. Editorial Calendar
        3.2.1. Twitter
            3.2.1.1. Monday
                3.2.1.1.1. Post 1
                    3.2.1.1.1.1. AT THIS POINT YOU CAN CREATE A TASK  FOR THE CONTENT OF EACH POST                                            ALONG WITH THE DATE AND TIME IT SHOULD BE SCHEDULED OR POSTED ON                                        TWITTER, FACEBOOK OR LINKED IN
                3.2.1.1.2. Post 2
                3.2.1.1.3. Post 3
            3.2.1.2. Tuesday
            3.2.1.3. Wednesday
            3.2.1.4. Thursday
            3.2.1.5. Friday
            3.2.1.6. Saturday
            3.2.1.7. Sunday
        3.2.2. Facebook
            3.2.2.1. Monday
            3.2.2.2. Tuesday
            3.2.2.3. Wednesday
            3.2.2.4. Thursday
            3.2.2.5. Friday
            3.2.2.6. Saturday
            3.2.2.7. Sunday
        3.2.3. LinkedIn
            3.2.3.1. Monday
            3.2.3.2. Tuesday
            3.2.3.3. Wednesday
            3.2.3.4. Thursday
            3.2.3.5. Friday
            3.2.3.6. Saturday
            3.2.3.7. Sunday
    3.3. Listening / Interaction
        3.3.1. Identify accounts to interact / make contact with
        3.3.2. Prepare plan to build conversations