Don't know what to write in your work experience diary?
Use this mind map as a guide and answer the questions on each branch. Once done, simply export the mind map into a word document to begin the first draft of your diary.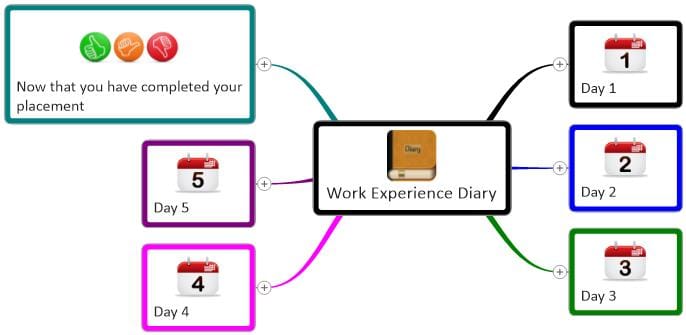 1.1.1. What I would like to learn during my work experience
    1.1.2. First Impressions
    1.1.3. Who I Worked With
        1.1.3.1. Job Title
    1.1.4. Tasks Completed
    1.1.5. What I enjoyed most about today
    1.1.6. What would you do if fire alarm sounds?
    1.1.7. Where is first aid room/box?
    1.1.8. Machines/pieces of equipment that are not allowed to be used?
    1.2.1. How many people work there?
    1.2.2. What I enjoyed most today
    1.3.1. Improving my three targets
    1.3.2. Do people at workplace belong to a trade union?
    1.3.3. Information about trade union/people who belong to it?
    1.3.4. Best thing about today was
    1.4.1. What would you have to do if you were interested in applying for a job with this company 
        1.4.1.1. Where would they advertise
        1.4.1.2. What skills would they be looking for 
    1.4.2. Main activities/tasks for today?
    1.4.3. Most difficult task?
    1.5.1. What will you miss most?
    1.5.2. What will you miss least?
    1.5.3. Report on how you have coped with the placement
        1.5.3.1. What would you honestly write about yourself?
    1.5.4. How have you developed during the placement
 1.6. Now that you have completed your placement
    1.6.1. How do you feel you have changed?
    1.6.2. What you got out of placement?