Lumison Turns to MindGenius to Tackle Complex Business Challenges for its Clients
UK Internet service provider turns to mapping technology to engage senior decision-makers and win business.
Lumison, the UK Internet service provider is using the highly-acclaimed MindGenius business mapping tool to tackle the complex business challenges of its clients. The adoption of MindGenius enables Lumison to accurately capture the complex requirements then demonstrate its solutions for managed networks, hosting and applications.
"The scale and complexity of client requirements at Lumison had escalated to the point where our teams were engaged with senior decision makers but finding it challenging to maintain momentum and clear direction because of the complexity of issues being discussed" said Chris Shields, Client Director at Lumison.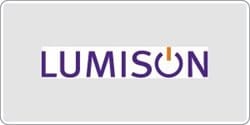 See yourself the difference MindGenius will make in your projects...
During your free trial we'll show you how MindGenius will make project management simpler, more complete, ane more enjoyable….