Transform learning with our cognitive power tools.
Start with a mind map. End with a
class presentation.
lesson plan.
dissertation.
project plan.
With MindGenius, everyone benefits.
MindGenius improves writing skills, ignites creativity, and increases productivity, as well as providing multiple tools that go beyond mind mapping.
Through Campus-Wide licensing, we provide both MindGenius products for all students, faculty, and staff — at a substantial discount.
Interested in finding out why so many universities already use MindGenius? Watch the video to find out more, or contact us: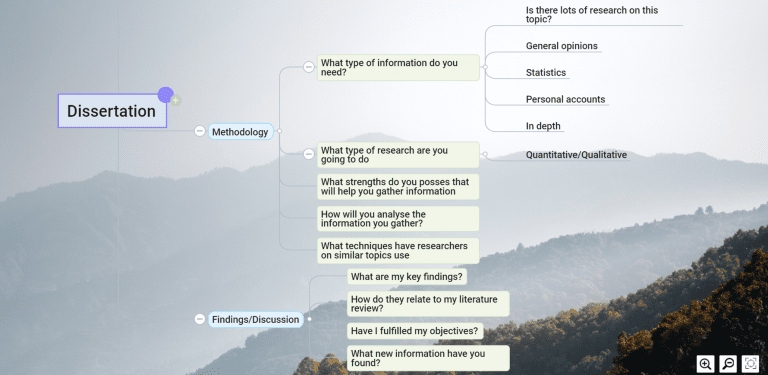 With MindGenius, there's no need to waste time on format or layout. Take the stress out of learning by linking your information together through Mind Maps.
With MindGenius, all your information is structured. This reduces the time it takes to prepare for assignments, projects and dissertations. MindGenius puts you back in control and helps you achieve success.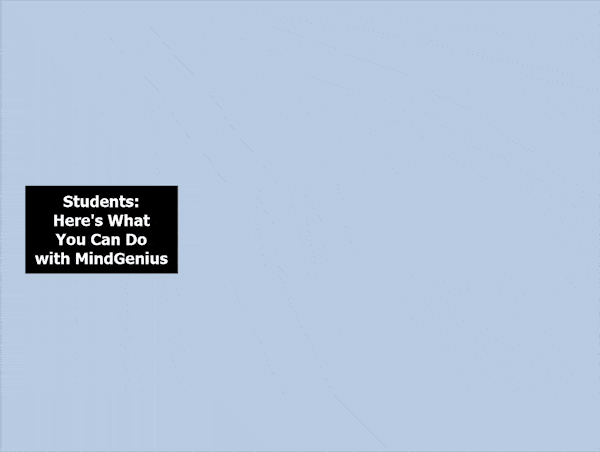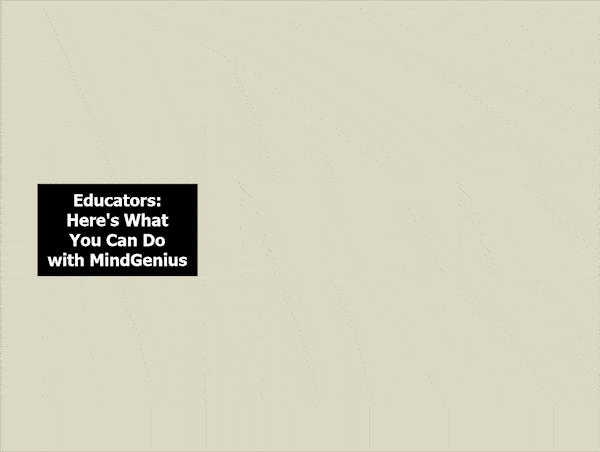 MindGenius can be a powerful tool that will help you captivate the classroom.  Develop course outlines & lesson plans as well as being able to add additional information such as links, images and files.
Above all, you can engage your students and stimulate their thinking. Mind Maps provide clarity to complex information & makes it easier for students to retain knowledge.
MindGenius makes information and ideas visual and graphic. In today's neurodiverse world, our applications can make a big difference in how effectively people learn, communicate, and retain knowledge.
MindGenius is approved by the British Dyslexia Association as well as being a big part of the Assisted Learning community for a number of years.
MindGenius is now available to use on Microsoft Teams. All of our product features are included. This means you can continue to plan projects, create mind maps and be creative while collaborating in real-time with your colleagues. 
Interested? You can find us in the App Store or find out more below.
Campus-Wide learning at a remarkable price.
Through our Campus-Wide licensing program, we provide the two MindGenius applications for all students, faculty, and staff — at a substantial discount.
Through Campus-Wide MindGenius licensing, your school will receive our two powerful applications for all students, faculty, and staff:
• MindGenius 20 (Desktop PC users)
• MindGenius Online (browser-based)
MindGenius Campus-Wide Deployment - 3 Simple Steps
Software can sometimes be hard to deploy across schools and universities. 
MindGenius changes that. Our Campus-wide agreement means you can deploy your enterprise license in 3 simple steps.
1) Clear instructions on how to deploy your enterprise license.
2) Admin rights to your MindGenius Online account. Add/remove your own users at your own discretion. 
3) A unique license code to share. Promote your license code to those within your institution, whether it's students, faculty or staff.
What do our universities think?
"The University of Stirling has subscribed to MindGenius for a number of years. The license is great because it permits all students and staff to a free download – the software is not just a useful tool for disabled students eligible for DSA funding, it's useful to all. Students find the software really helpful for exam revision and essay planning."
Interested in MindGenius Campus-Wide? Contact us below.