MindGenius can help
Educators and Students.
Discover how MindGenius
can Help You be More Creative,
More Productive and Effective.
Develop a relevant Body of Knowledge
For every subject, build a mind map that grows with each class, lecture, lab work or tutorial, building a Body of Knowledge as a single point of reference for now, for revision and for the future
No need to waste time on format or layout – take the stress out of learning by seeing how information is related, associated or linked
Highlight key points and add links to additional information – reducing the time it takes to prepare for assignments, essays, projects, dissertations and exams
For Students, For Lecturers, For Life.
Educators: Become More Focused and Effective
MindGenius is a powerful tool that can make a big difference in preparing and delivering class content.
What are the most important documents you use for teaching?
MindGenius can help in producing virtually all of these. When you begin with a mind map, you engage your visual sense in ways that can expand your clarity of thought and creativity.
Benefits for Lecturers and Teachers:
Create and build your Body of Knowledge and add to it as information comes to hand

Build up reference material and access additional materials by applying links to explore later

Develop course outlines, lesson plans and tutorials in a format that accomodates additional information easily

Quickly access an overview of a subject or drill down to the most miniscule of detail

Engage students cognitive powers by stimulating their thinking and make it easier to absorb what you have taught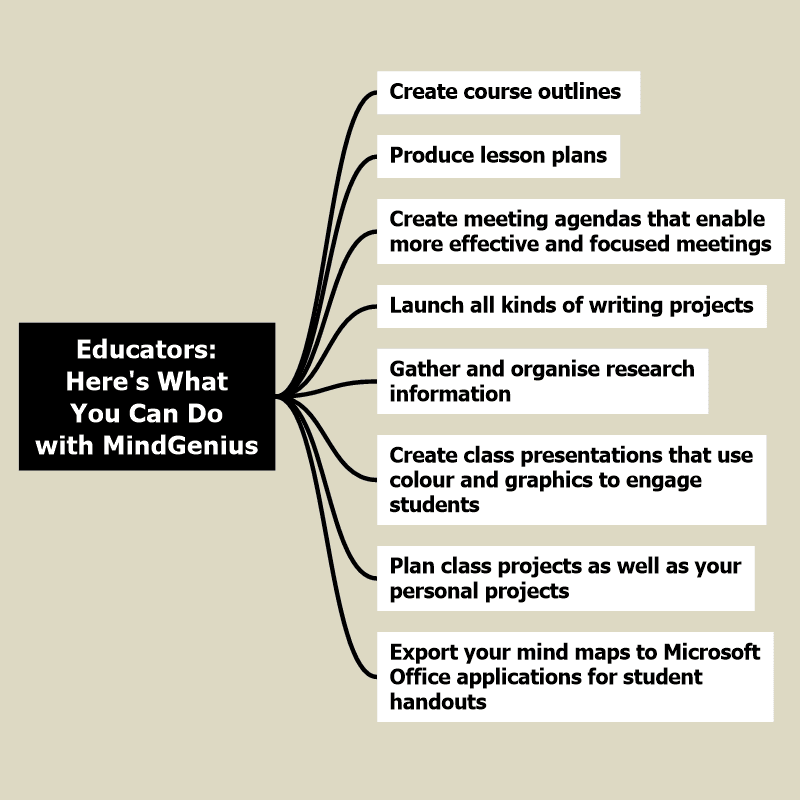 Students: Use More of Your Brain to Accelerate Your Learning
MindGenius makes information and insights more visual and graphical. When you engage more of your brain in your learning, you can improve your comprehension and retention.
MindGenius can make a big difference in your school life in many different ways.
Benefits for Students:
Create knowledge bases for every subject that you can refer to and question when needed

As information grows from various sources, add to your knowledge base with minimal effort

 Help your brain absorb information with image, colours and tags. Immediately notice how memory and information recall are improved

During study quickly see an overview of your subject or drill down to the most miniscule of detail

Add structure to assignments, essays, projects and dissertations

Feel more in control less stressed and obtain better grades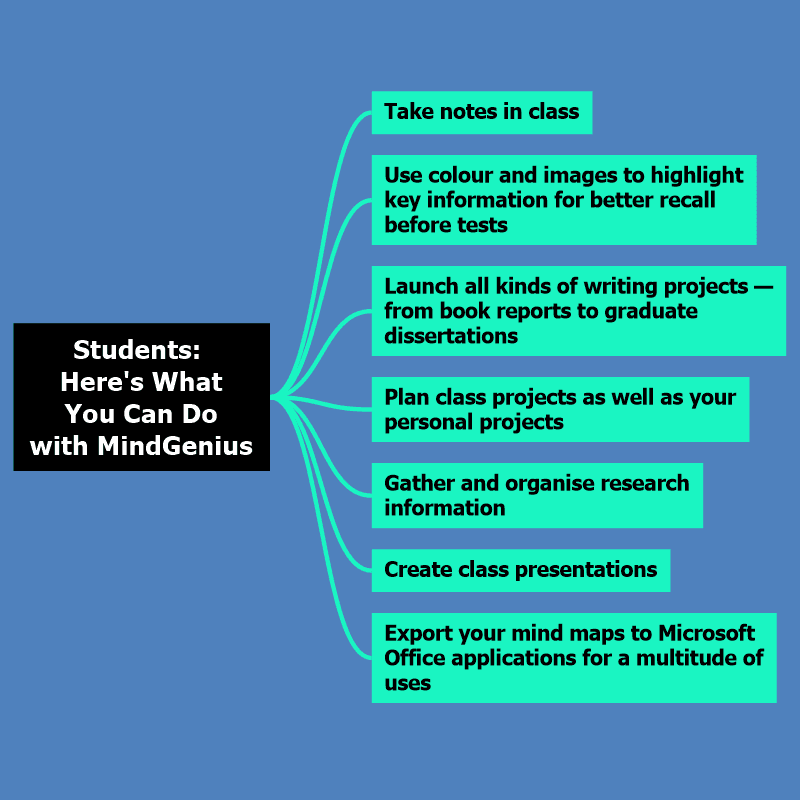 A Cognitive Power Tool For Assisted Learning
Mind mapping has proven to be a key coping mechanism for those benefiting from Assisted Learning initiatives:
Pupils and students have less need to focus on spelling, grammar or sentence structure through use of keywords, images, associations and connections

It boosts confidence and brings fun back into learning by bypassing the challenges associated with dyslexia and Asperger's

Keeping students and pupils engaged and happy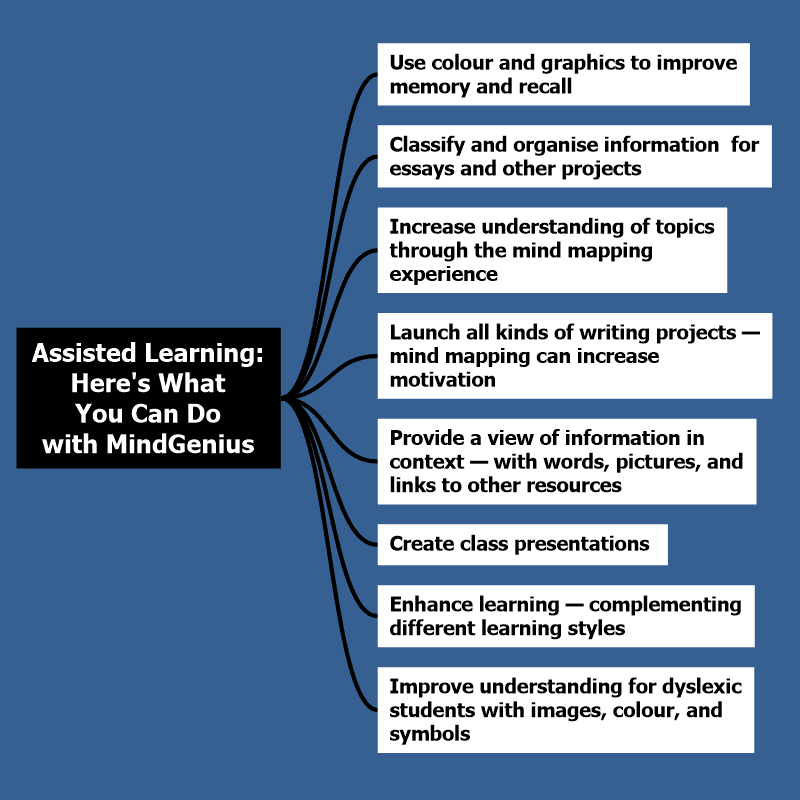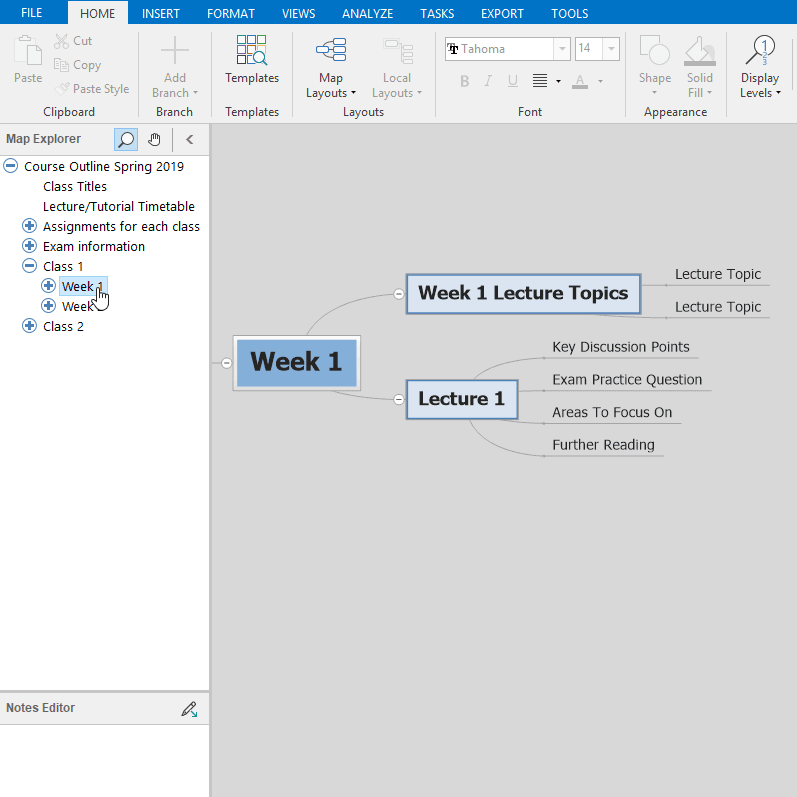 Take The Stress Out of Learning
When you use MindGenius for a course outline or lesson plan, you see ideas and information in a natural, hierarchical relationship.
You can store a huge amount of facts and insights in a mind map – down to the smallest details. But at any time you can instantly go back to the big picture using the Map Explorer.
Bring all the benefits of MindGenius to everyone in your school through campus-wide licensing.
This includes :
1) Enterprise install and free upgrades to the latest version of our desktop product, MindGenius 20.
2) Take home rights for all students of the Desktop product, MindGenius 20
3) One University Managed MindGenius Online account with unlimited users that would suit any student with a Mac or devices with browsers
Join these forward thinking Schools, Colleges and Universities that have equipped their faculty and students with MindGenius.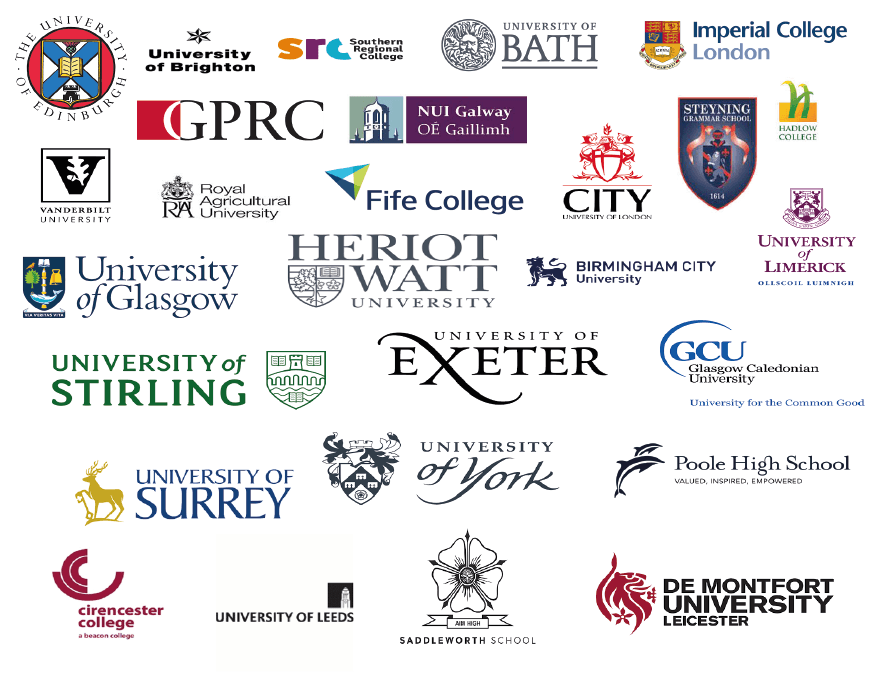 Education Resource Guide
We have put together a comprehensive guide to using MindGenius in the education sector. This guide details each of the key uses of MindGenius within education to let you see in more detail how MindGenius could benefit every department as well as pupils and students.
Try MindGenius completely FREE for 14 Days
MindGenius is a great way of capturing information to develop a project plan. It allows you to develop a higher quality product with fewer resources and less frustration.
Elections New Brunswick
This software is a true office revolution - I could not envisage anyone who could not improve how they work with MindGenius
Honeywell
Before Mindgenius we were working to a capacity of 10 projects - now we are managing a portfolio of over 70 active projects.
Interactive Data